DMV Services Update:
Our new location is open for you! Monday – Friday from 8 am – 5 pm we are here to serve your DMV services needs.
Real ID's & Licensing, Vehicle Transactions and more!
DMV Services:
Hello from the DMV services desk! This fall has been full of changes already: A beautiful new color scheme, record-breaking rainfall, and an exciting new statute change! Effective August 11th, 2022, vehicles now only need one license plate. Non-commercial (personal use) vehicles will display the plate and decals on the rear of the vehicle, while commercial vehicles must now display the plate and decals on the front of the vehicle. If your vehicle had 2 plates on it prior to the statute change, you may still display both plates if you so choose, but commercial vehicles will need to move the plate displaying the month and year decals to the front of the vehicle. No more having to drill holes to attach that front plate to your shiny new car or hope that no one notices you never did!
---
CDL Training:
Graduate Report: In August we had 19 students complete their CDL Training programs and pass their road skills exams. These students are already employed or have offers of employment already! Students who are new to the industry can access our job portal as well as our office staff actively working with local companies seeking drivers.
Maintaining a monthly list of jobs all over Alaska, KPDI will happily provide this information to former and current KPDI students upon request. They can also visit our job portal on our website. Email us for the PIN to access the job portal or a PDF of the monthly listings.
Our Programs: Our Alaska CDL programs are one to one training every day. Our drivers are driving up to 200 miles per day, therefore, You'll get more seat time with KPDI!
ELDT: Our programs meet the new FMCSA ELDT standards and are proven to give students more miles and more seat time.
Schedule: Currently, we are scheduling CDL Trainings for December 2022.  Guest housing is also available with private rooms.
Grant Funding: KPDI is pleased to announce we have STEP grant funding available for 2022-23! You can contact our office for an application.
---
New Driver Training: Our next new driver course begins on September 10th. This class is full. The next class is October 8th. Plan ahead and book your new driver course early! IDEA & Connections Funding accepted.
Knowledge Exams: You can take your knowledge exams with us without a special trip to the DMV! However, we do require an appointment for CDL knowledge exams. There is no cost to students who are enrolled in a program with us. If you are not enrolled in a program, the cost is $10 per exam.
State of Alaska DMV has a new system that allows people to take some non-commercial knowledge exams online! This new system can be found here.
---
Fingerprinting Appointments: Set up an online appointment here or call 855-347-8371
IdentoGo appointments for fingerprinting for TSA Pre-Check, HazMat Endorsement & TWIC cards are scheduled on the following days this month: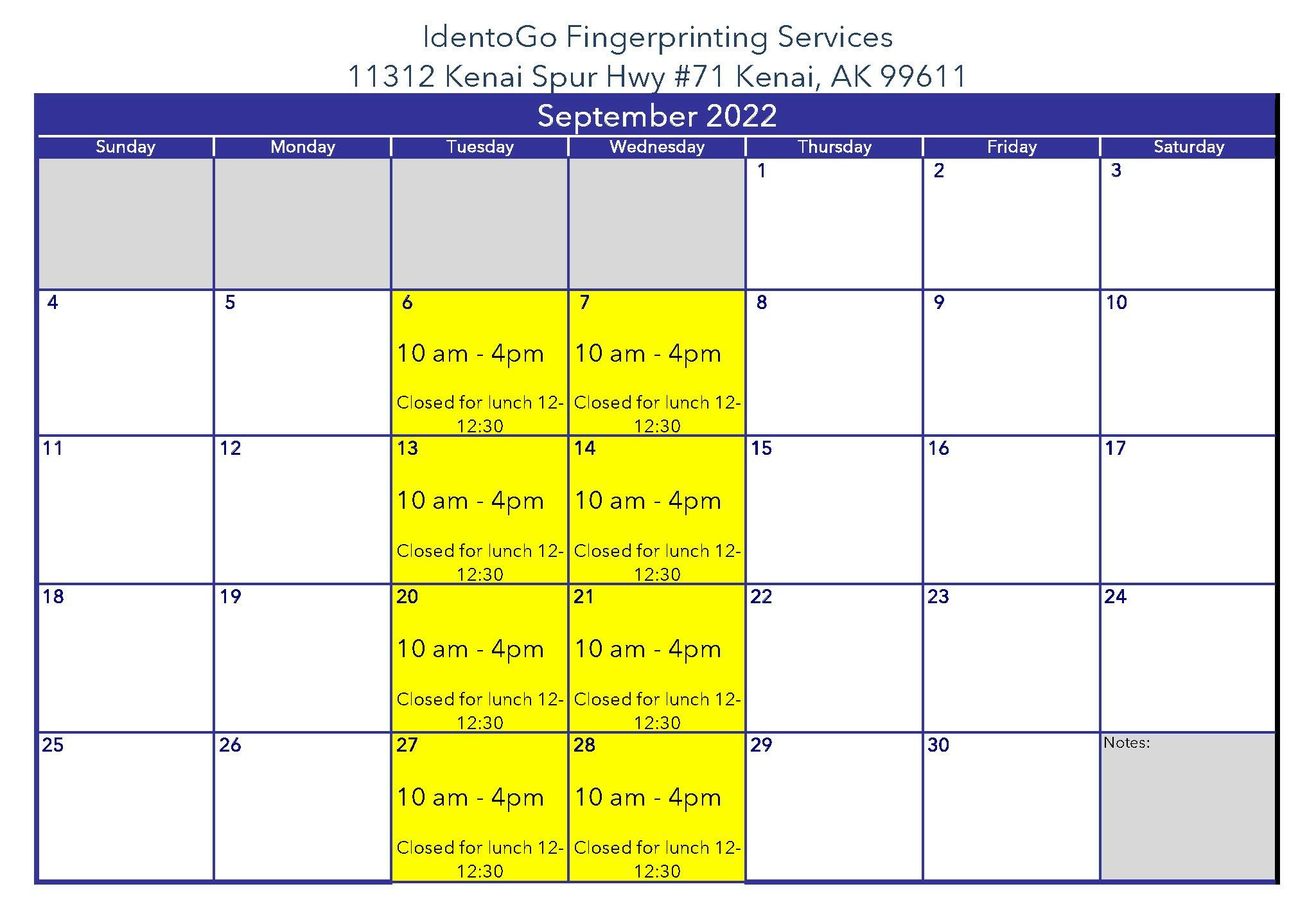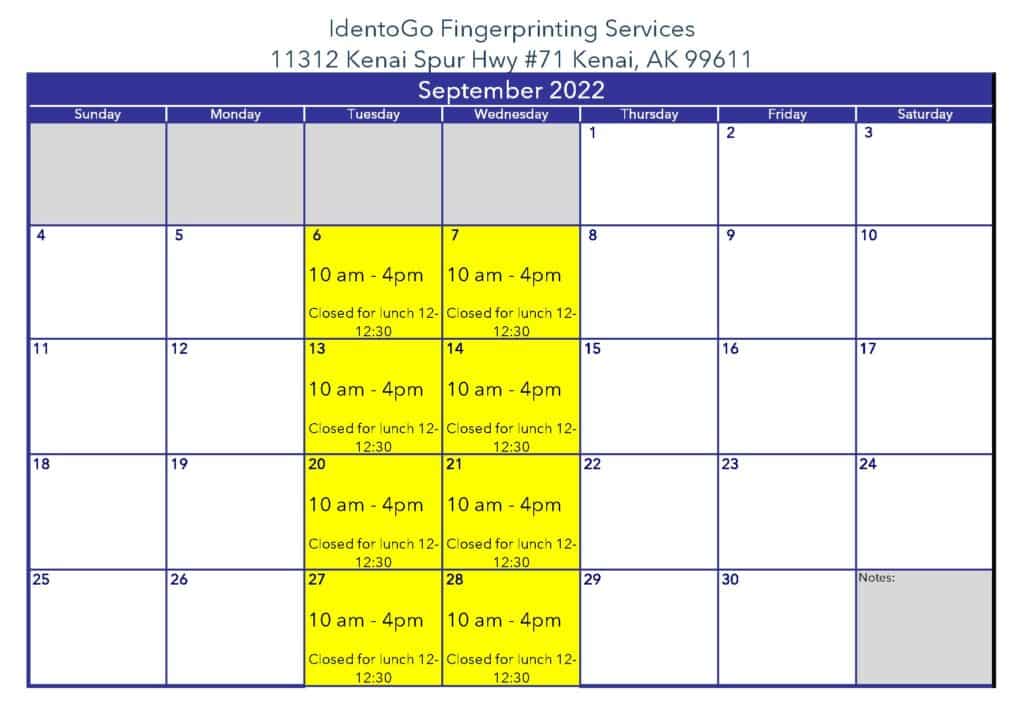 TWIC Cards typically arrive within 30-60 days after enrollments. If you have a TWIC card required for your employment be sure to plan ahead and check your expiration date on your existing TWIC card. You can renew your TWIC card up to six months before the expiration date! TWIC cards ship directly to you if approved.
For TSA Pre-Check and HazMat endorsements, letters will no longer be mailed out. You must check the status of your enrollment online.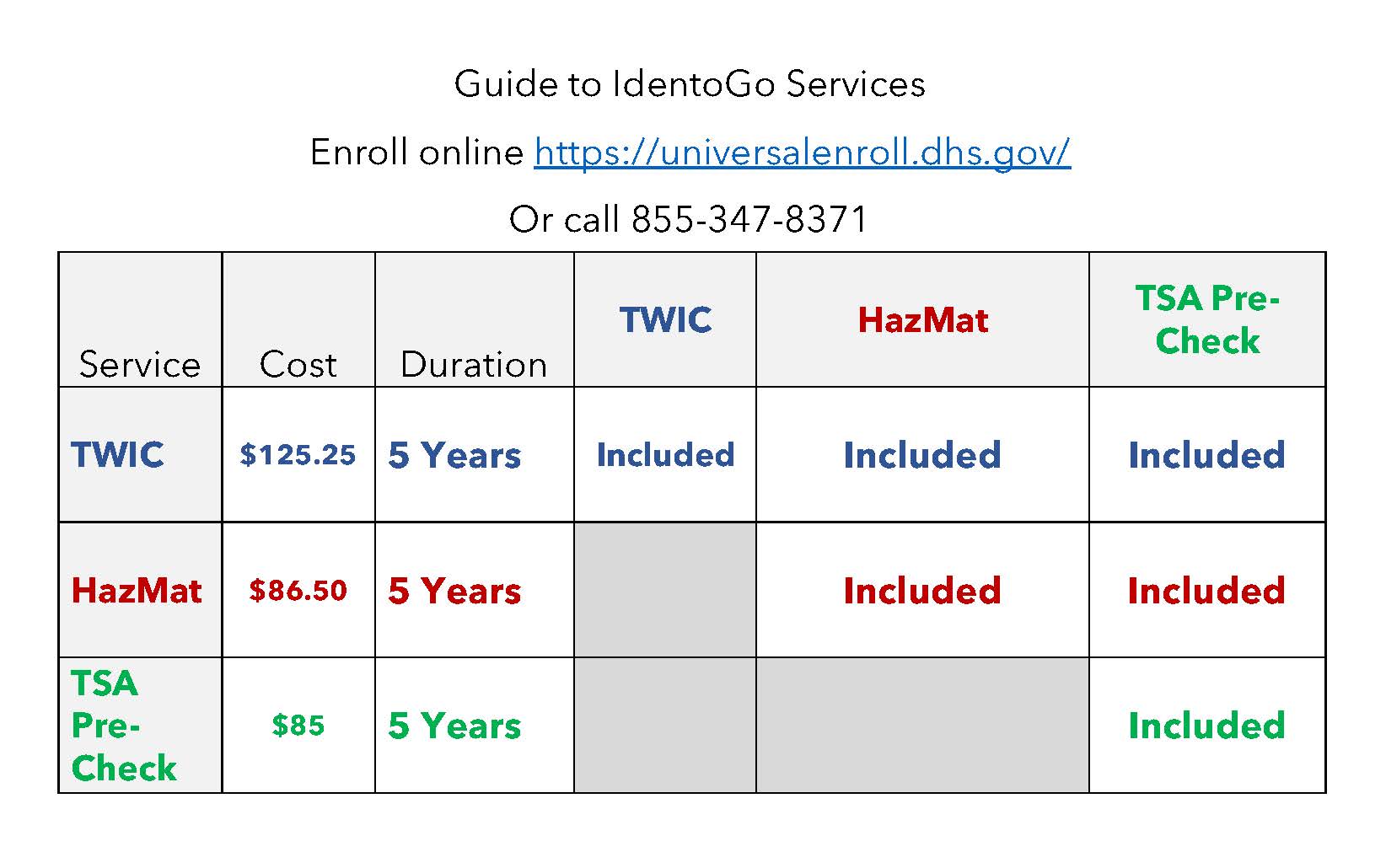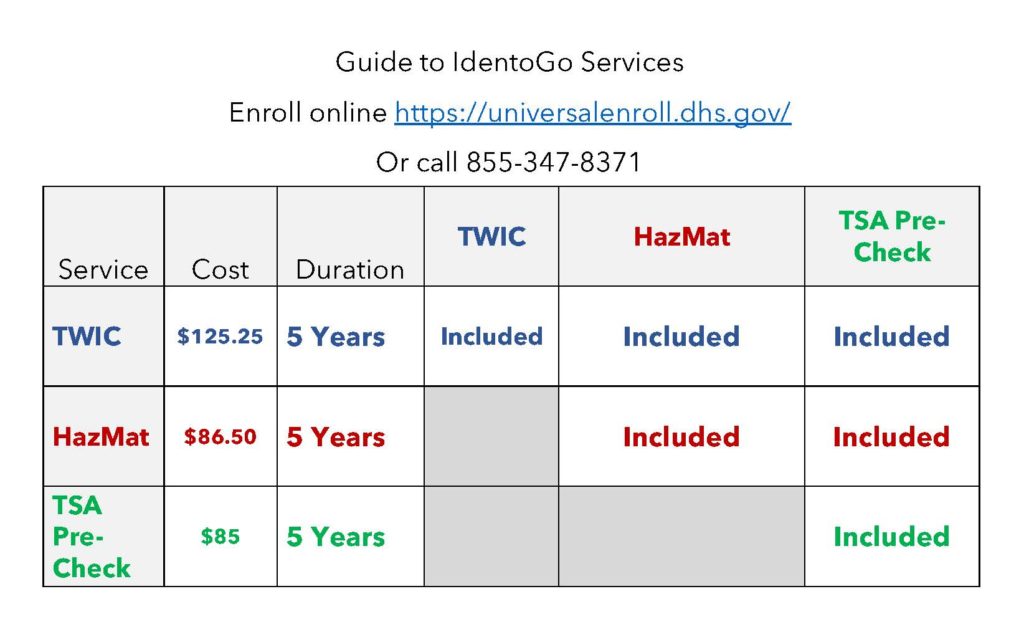 Administration and student support staff have limited office hours. CDL Training packets are available in the lobby of our office in Kenai.